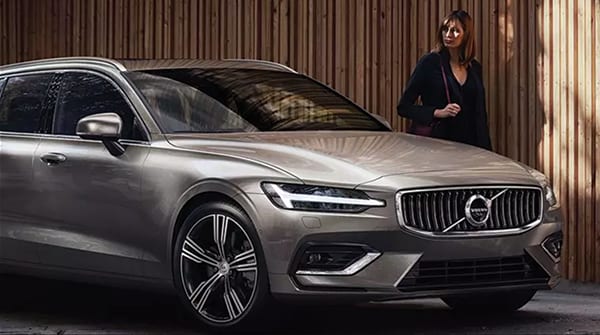 We are looking ahead into next year by giving you a sneak peek at the 2019 Volvo V60. The V60 is a new and amazing station wagon that holds its ground against the rest of the Volvo lineup with its focus on style, performance, and reliability. Read below to get a bit more information on this luxurious vehicle and then come to visit us at Premier Volvo Cars of Overland Park to get a more detailed breakdown from one of our representatives.
The V60 will include a transverse-mounted 2.0-liter inline four engine paired with an 8-speed automatic transmission and will come in two different models, the T6, and the T5. The all-wheel-drive T6, which will be both supercharged and turbocharged, will produce 316-hp and 295 lb-ft of torque, while the front-wheel-drive T5 will produce 250-hp and 258 lb-ft of torque.
On the interior side, the V60 will include a large, tablet-like, 9.0-inch touchscreen, stitched-leather inserts and wood trim with metallic accents. In the center console, there will be an ignition switch that lives next to a driving-mode selector. The V60 also comes with standard leather and new quite cabin technology, as well as luggage compartment that has 23 cubic feet of storage.
The V60 will include features such as LED headlights, a panoramic sunroof, and an available head-up display. On the side of safety, the V60 will include a City Safety automated emergency braking and steering system standard and have optional systems such as Blind-Spot Monitoring, Pilot Assist, and Volvo's semi-autonomous self-steering adaptive cruise-control system.
The 2019 V60 will not hit showrooms until early 2019. We will be sure to provide updated information as we learn more, but for now be sure to visit us at Premier Volvo Cars of Overland Park to learn more or test drive one of our other spectacular vehicles.
The V60 is expected to start at $37,145 MSRP.