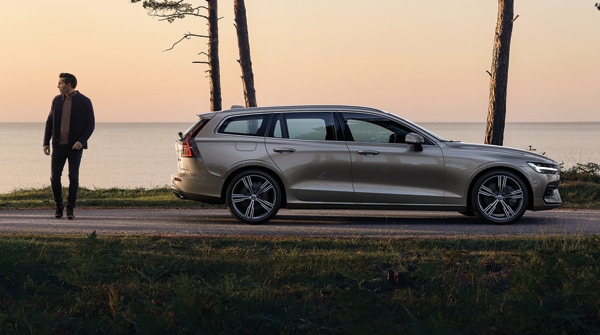 With 2018 coming to an end, we turn our sights to the new year and the all-new 2019 Volvo V60. This unique and marvelous station wagon is up to par with the rest of the 2019 Volvo lineup with exceptional style, impressive performance and safety features to round it off!
Take a read through this review on the all-new 2019 Volvo V60 and find out for yourself what makes this station wagon so unique!
Interior
The 2019 Volvo V60 has a sleek interior with wood trim and metallic accents with a 9-inch touch-screen infotainment system called Sensus Connect tying it together in the center dash. Sensus Connect offers available Wi-Fi and allows for the use of Android Auto and Apple CarPlay. The V60 is standard with leather, quiet cabin technology, and 23 cubic feet of luggage compartment storage.
Performance
The 2019 Volvo V60 comes with a pair of engine options. The first one, the T5 uses a turbocharged 2.0-liter inline-four-cylinder engine. The T5 engine produces 250 horsepower with 258 lb-ft of torque. The second engine, the T6 adds on a supercharger and turbo to give an additional boost to performance, churning out 316 horsepower with 295 lb-ft of torque and is exclusively available with all-wheel drive. The T5 and T6 both come with an eight-speed automatic transmission.
Safety
An essential aspect of any vehicle is the safety, and the 2019 Volvo V60 excels. It has a slew of safety features including forward-collision warning with auto emergency brake, blind-spot monitoring, as well as Volvo's Pilot Assist II with the semi-autonomous self-steering adaptive cruise-control system. Rear automatic emergency braking with rear cross-traffic warning is available.
The 2019 Volvo V60 will be available early in 2019, and the anticipation is mounting! With top quality style, impressive performance, and comforting safety features, it's no wonder why Kansas City drivers are excited for the V60 to release!