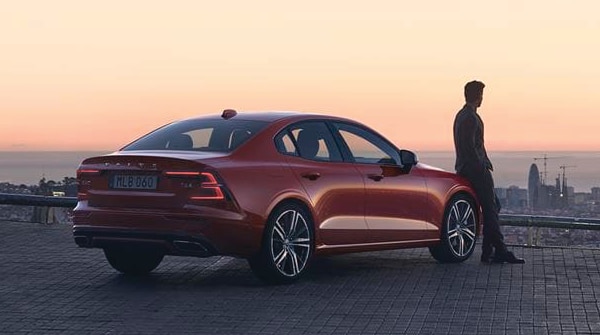 With 2018 coming to an end, the year needs to be sent off in a grand way. And what better way than with the introduction of the all-new 2019 Volvo S60! The elegant and unique sports sedan has been refashioned to offer effortless performance and integrates advanced technology to make it stand apart from the rest.
Interior
While this is a smaller Volvo, it still packs the same luxury feel that larger Volvos are known for. It has standard Comfort or option Contour seats, faceted metallic knobs, and 8" digital cluster with crisp clarity. Simple and stylish themes can be seen with the air vents and center console. The interior is brought together with a 9" infotainment system with swipe and pinch-to-zoom capability. The infotainment system comes with Apple CarPlay, Android Auto, and a built-in Wi-Fi hotspot.
Performance
The 2019 Volvo S60 comes full-force with its power and performance. All S60 models use an eight-speed automatic transmission. The base S60 comes as the front-wheel-drive T5, using a 2.0-liter turbocharged four-cylinder engine, producing 250 horsepower with 258 lb-ft of torque. The T6 is the next one up, with all-wheel drive and adding a supercharger to the previously mentioned engine. This increases horsepower to 316 with 295 lb-ft of torque. There is also the T8 Twin Engine. This uses a plug-in hybrid powertrain, pairing with the T6's turbocharged and supercharged 2.0-liter engine with an electric motor. This powerful combo churns out 400 horsepower with 472 lb-ft of torque! When combined with Polestar Engineered, the horsepower and torque get boosted to 415 horsepower and 494 lb-ft of torque.
Safety
The 2019 Volvo S60 isn't a one trick pony; it adds safety features as impressive as its engine options. It comes with the City Safety package. This includes an auto brake system designed to warn the driver to or apply pressure to the brakes when an object is detected in front, Oncoming Collision Mitigation, to avoid collisions at intersections with oncoming vehicles, and Steering Support to help the driver perform evasive maneuvers in emergency situations. It also comes with Driver Alert Control. This will sound an alarm if the S60 detects erratic driving behavior to bring the driver to attention.
The all-new 2019 Volvo S60 comes in at a starting price of $35,800 MSRP. Be sure to come visit us at Premier Volvo Cars in Overland Park, Kansas and test drive the all-new 2019 Volvo S60.