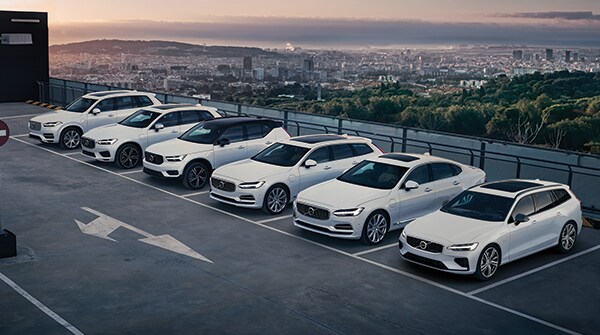 Volvo has been innovating in electric powertrains since the 1970s and currently offers plug-in hybrid versions in four of their models; XC90 and XC60 SUVs, in addition to the S90 and S60 luxury sedans. The plug-in hybrid design is the fastest growing type of vehicle hybrid where the vehicle is capable of being charged through a power outlet or recharging station. This powertrain combination lowers both fuel consumption and exhaust emissions while still delivering a more responsive acceleration. Visit Premier Volvo Cars Overland Park to test drive these luxury hybrid vehicles.
Performance
Volvo's Twin Engine hybrid technology combines a traditional combustion engine to power the front wheels with an electric motor to drive the rear wheels. This powertrain consists of a 2.0-liter inline four-cylinder turbocharged and supercharged T8 engine paired with an 8-speed Geartronic™ automatic transmission with an 87-hp electric motor. The T8 utilizes an all-wheel drivetrain and delivers a combined 400-hp and 472 lb-ft of torque. Driving modes include Pure which runs only on electric power, Hybrid which maximizes efficiency utilizing both the combustion engine and electric motor, and Pure mode for a high-performance driving experience.
Volvo Models
SUVs
In the hybrid SUV category, Volvo presents the XC90 and XC60 models which produce a hybrid version in the Momentum, R-Design, and Inscription trims. The XC90 has seating for seven and has an estimated 30 mpg highway and 26 mpg city and an all-electric range of 19 miles. The starting MSRP is $66,300. The XC60 seats up to five in luxury its T8 engine achieves up to 59 MPGe or an estimated 21 miles on battery alone and accelerates from 0 – 60 mph in just 4.9 seconds. The starting MSRP is $52,900.
Sedans
Hybrid versions are available in both the S90 and S60 sedans. The S90 seats up to five and offers hybrid versions in the Momentum and Inscription trims. The S90 has an estimated gas range of 33 mpg highway and 26 mpg city, an all-electric range of 21 miles, and combined 71 MPGe fuel economy. The Starting MSRP is $63,900. The Volvo S60 offers hybrid versions in its R-Design and Inscription trims. The S60 is a five-passenger luxury vehicle which reaches 0-60 mph in just 4.4 seconds and has a starting MSRP is $54,400.
Future
Volvo Cars announced that it would electrify its entire line of vehicles in the near future. Its first all-electric car, a version of the XC40 SUV, is scheduled to be ready for market at the end of 2019. Volvo is committed to pursuing its vision of having 50-percent of its car sales volume to be electric by 2025.