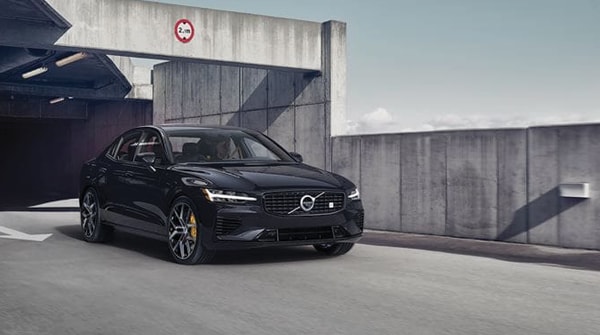 Volvo Polestar Engineered delivers performance through a more responsive acceleration using both a conventional combustion engine and a battery-powered electric motor all while reducing emissions and fuels costs. Visit Premier Volvo Cars Overland Park to test drive one of the new plug-in hybrid models
Performance
Several of the new Volvo models are being introduced with hybrid Polestar- Engineered versions. The plug-in hybrid luxury models employ a T8 2.0-liter four-cylinder turbocharged and supercharged gas engine with an electric motor and an all-wheel drive train. These powerful engines pump out 400-hp and 472 lb.-ft. of torque. Polestar optimization also includes upgraded suspension and braking components, and other performance styling features. The suspension was developed by Swedish experts, Ohlins, with its unique dual flow valve technology to aid the car in responding quicker to road-surface imperfections. The brakes were designed in association with well-known specialists Brembo, and the wheels utilize lightweight Polestar Engineered alloy.
The Polestar Engineered trims include four different driving modes. The Power mode gets the most out of both the gas engine and electric motor, while the Pure mode runs only on the electric motor resulting in zero tailpipe emissions. The Hybrid mode strives for maximum fuel efficiency by managing the best mix of gas and electric power, and you can tailor the car's settings to fit your style or mood using the Individual mode.
Volvo Plug-In Hybrid Models
The all-new S60 offers the plug-in hybrid option with the R-Design and Inscription models while the 2019 XC60 is available in the Momentum, R-Design, and Inscription trims and has an estimated EPA-rating of 28 mpg highway and 26 mpg city with an all-electric range of up to 17 miles. The 2019 S90 comes in the Momentum and Inscription grades producing an estimated fuel economy of 33 mpg highway and 26 mpg city with an expected maximum all-electric range of 21 miles. The 2019 XC90 offers the T8 in the Momentum, R-Design, and Inscription trims with an estimated 30 mpg highway and 26 mpg city fuel economy and has a 19 all-electric mile range.
Pricing
Starting at $52,900 MSRP