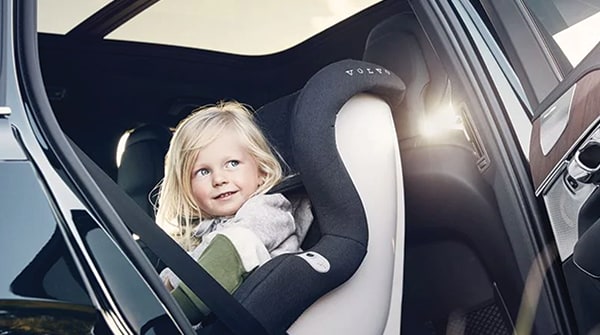 Safety is one of Volvo's core values, so it's no coincidence that their vehicles have a well-deserved reputation for making some of the safest cars on the road. Premier Volvo Cars Overland Park has one of the largest Volvo car inventories serving the Lenexa, Olathe, and Lee's Summit area. We encourage you to visit us so you can experience first-hand what Volvo has to offer including their advanced safety technology.
Safety History

Always focused on safety, Volvo was the first auto manufacturer to use laminated glass and a padded dashboard and also encouraged advances such as the design and execution of the first three-point seatbelt and child booster seat. Additionally, Volvo created side-impact airbags in 1994 and the first inflatable curtain in 1998 to protect both the front and rear passengers, which have in turn resulted in saving numerous lives. Volvo took safety to another level by being the first to introduce and make standard in every new Volvo, technology that aided the driver in recognizing possible danger and helping to avoid it.
Safety Technology

Volvo developed City Safety in 2008 to protect people inside and out. This technology employs radar and camera equipment to spot other vehicles, pedestrians, and animals, sends a warning, and if the driver does not react in time, it can automatically apply the brakes. Oncoming Lane Mitigation senses if you have crossed the lane markings and may be in the path of an oncoming vehicle and automatically aids you back into your lane. Lane Keeping Aid steers you back if it appears you unintentionally left your lane. Additionally, since one of the most common types of collisions is getting hit from behind, Volvo utilizes a rear collision warning system that alerts the driver if it estimates a collision will occur and it is capable of tightening the seat belts just before the crash.
Volvo has and will continue to be innovative in order to save lives.